Title Are you ready for Pharma 4.0? Tips for Preparing your Water System for Real-Time Testing
Speaker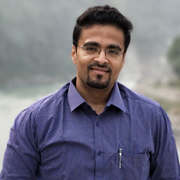 Rohit Chakravorty
Lead Applications Specialist
Speaker's Biography:
Rohit Chakravorty is a Lead Applications Specialist with SUEZ – Water Technologies and Solutions, responsible for providing application support in India, SAARC and ASEAN region for the Sievers product line. He is responsible for helping the pharmaceutical industry become familiar with Total Organic Carbon (TOC) applications, notably in cleaning validation and Real-Time-Release-Testing (RTRT) of pharmaceutical water, and in guiding customers through successful transitions from HPLC to TOC for cleaning validation.
Prior to joining SUEZ, Rohit was an Application Specialist for India and SAARC with Sysmex, and a Research Assistant at Sun Pharmaceutical in India handling various types of scientific instrumentation.
Rohit holds a Masters in Biotechnology (Gold Medalist) from Padmashree Dr. D.Y.Patil University in India.