The quality of healthcare is projected to become enhanced in the future, aided by new innovations in technology. Robot-assisted surgery (RAS) has seen significant advancement of late, bringing the promise of much better surgical and post-surgical success rates. In the medical device industry, surgical robots are one of the fastest growing sectors. In addition to providing superior mobility, robotic surgery devices allow surgeons to reach confined spaces and provide extremely advanced imaging capabilities, with better dexterity. Yet, the robotic surgery industry is struggling to thrive in most developing countries. Another interesting trend that's emerging is the increase in medical tourism seeking RAS interventions in the region. Let's explore further.
When compared with conventional laparoscopic and endoscopic techniques, robotic surgery allows intricate and advanced surgical procedures to be performed more precisely and with minimal skin incision.
To achieve maximum precision impact, robot-assisted surgery platforms utilise electrosurgical hardware, instruments, artificial intelligence and data analytics. The robotic surgery minimises tissue damage, pain, and hospital readmissions as it is able to be implanted precisely during the surgery. In addition, with the 3-dimensional visualisation of image (rather than 2-dimensional vision in standard laparoscopy) surgical robotics further eliminates the risk of hand tremors. Advanced models offer voice-activated or manual master controls for demonstrating steady camera motion in addition to ergonomic design and training simulator. Despite the benefits of minimally invasive surgery (MIS), shorter hospital stays, and faster return to normal activities, only about 3 per cent of surgeries are performed robotically in the world.
Technological advancements have even enabled effective remote surgeries by demonstrating the tremendous potential of robotic aids and 5G technology. Surgeons and traumatologists are equitably empowered by the surgical robots technologies.
Kevin Falzon, Senior Business Director, Surgical Robotics at Medtronic (Asia Pacific), states, "RAS has seen significant advancement of late, bringing the promise of much better surgical and post-surgical success rates. Powered by Artificial Intelligence (AI), robotics and a mix of other modern technologies, RAS effectively enables MIS, which means much lesser risks of complications, smaller scars, reduced hospitalisation time, and remarkably expedited recovery time. With RAS, surgeons can prevent surgical errors and speed up procedure times without compromising patient outcomes".
Reach and scope
Surgical robots are designed to overcome the limitations of MIS, and to improve open surgery outcomes as well. Simulation for robotic surgery has become a very strong area for the surgical science businesses, both in terms of market share and technology. Healthcare and medical educational robotics hold the strongest growth pillars in the surgical robot market.
GlobalData, in its report (2022) on Surgical Robotics Market Landscape, estimates that the surgical robotics market was worth $9.6 billion in 2021 globally and expected to grow across all geographies. North America is the highest revenue-generating market with APAC contributing to 11.5 per cent of the global revenue. A robust growth of the surgical robotics market is expected globally in the next decade. By 2030, it will have grown at a steady CAGR of 6.6 per cent to $17 billion, bolstered by the use of AI, augmented reality, and virtual reality in robotics.
Meanwhile, MarketsandMarkets reports "Surgical Robots Market will be worth $14.4 billion by 2026. North America dominated the surgical robots market, with a share of 63.6 per cent in 2019, while the Asia Pacific region is expected to register the highest CAGR of 18.5 per cent during the forecast period."
Robots in MIS were driven primarily by the complexity of procedures to treat complex medical conditions. The most commonly used robotic surgical system is known as "da Vinci Surgical System", manufactured by Intuitive Surgical, Inc. headquartered in California, the US. Intuitive Surgical continues to enjoy the benefits of market penetration, being the first major company producing robotic surgical systems for a large variety of procedures. By applying a MIS approach, this system has been deployed in procedures like prostatectomies, cardiac valve repair, and for renal and gynecologic surgical procedures for the last two decades.. Since its inception in 1995, da Vinci Systems have performed more than 6 million surgeries being the default choice for robotic surgeries.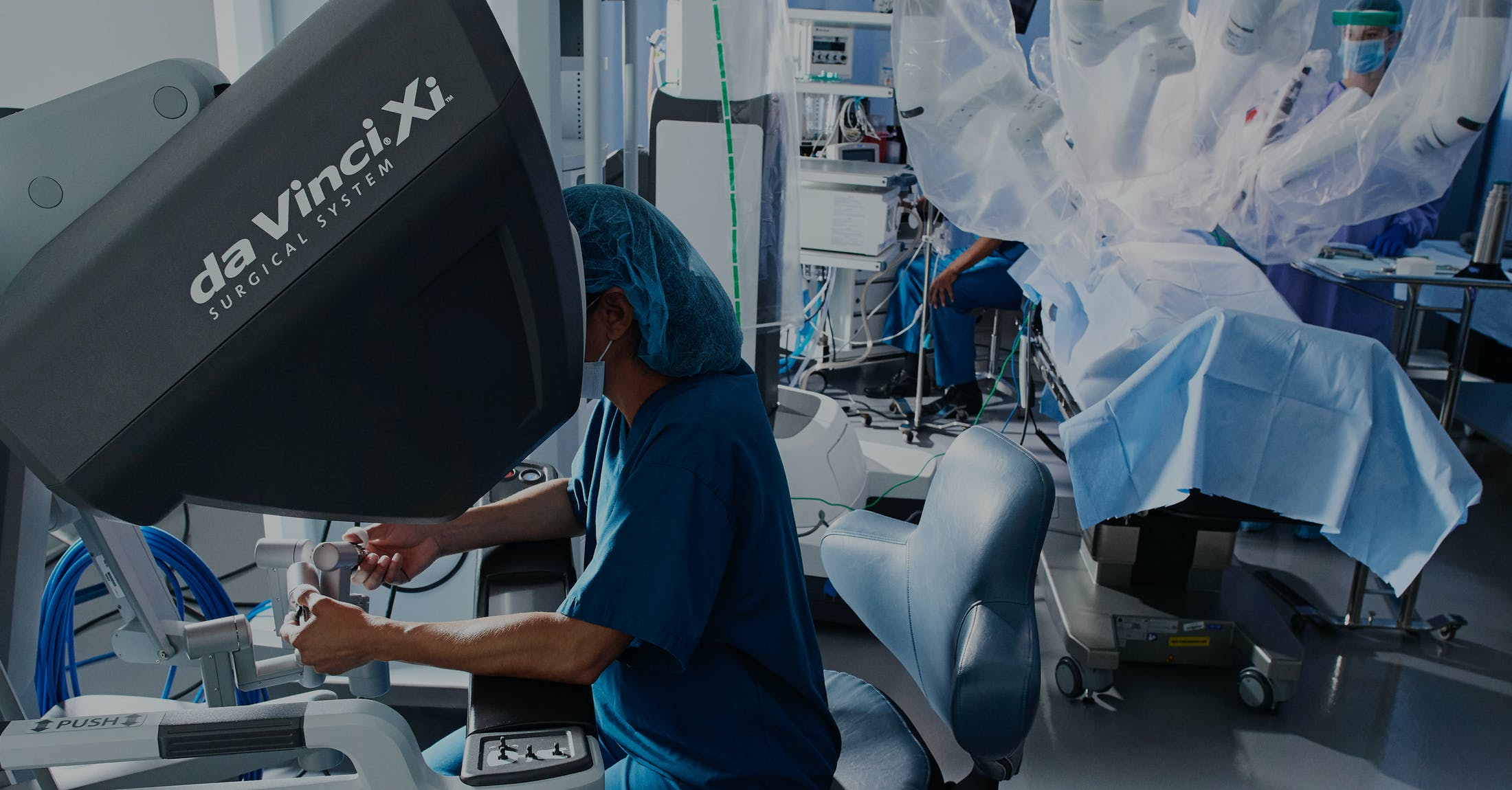 A new generation of surgical robotics, influenced by AI and IoT, is driving the market for minimally invasive surgery forward. Companies such as Stryker, Medtronic, and Zimmer Biomet have more recent approvals for robotic orthopedic, spinal, and neuro surgeries. Intuitive Surgical, Stryker, Medtronic, TINAVI Medical, Meerecompany Inc. are some of the major players in the APAC region.
The versatility and flexibility in these systems is driving companies to broaden access to this next-generation technology. For instance, according to Frost & Sullivan, the global market size of orthopedic surgical robots is expected to reach nearly $8 billion by 2030 at a CAGR of nearly 20 per cent, which indicates a promising market potential driven by the increasing demand for surgical robots in light of their clinical benefits and breakthroughs in key technologies.
The thriving sectors
The surgical robots market is deployed across general surgery, urological surgery, gynecological surgery, orthopedic surgery, neurosurgery, and other applications. The general surgery segment accounted for the largest share of 29.5 per cent of the market and is in an exponential growth phase due to increased use of surgical robots in general procedures such as bariatric surgery, Heller myotomy, gastrectomy, hernia repair, cholecystectomy, transoral surgery, and pancreatectomy.
Notably, minimally invasive endoscopic procedures are rapidly evolving. A large number of new minimally invasive endoscopic techniques, including Endoscopic Mucosal Resection (EMR) and Endoscopic Submucosal Dissection (ESD) have emerged to combat the increased detection of submucosal tumors, early cancers, and precancerous lesions in the digestive tract, a positive outcome of increased health awareness. This approach can reduce post-operative complications such as infections associated with surgical operations.
Robotic surgical systems, including general surgery robots, orthopedic robots, and neurosurgery robots, make up approximately 29.8 per cent of the total market. Tina Deng, Principal Medical Devices Analyst at GlobalData, says "RAS will be more popular in the orthopedic operating room in 2023. Orthopedic robotic surgical systems aid in various procedures such as partial knee replacement, total knee replacement, and total hip replacement. There are multiple manufacturers competing in the orthopedic robotics market, unlike the general surgery robotics market, which is dominated by Intuitive Surgical".
Several technologically advanced model segments such as in-vivo robots, nanobots, and capsule robots, are equally popular for domains of neurology, urology, gynecology, orthopedics, and more. There is an increasing demand for minimally invasive laparoscopic surgery and increased use of surgical robots in cancer-related procedures.
Nevertheless, general surgery, urology, and gynecology account for more than 80 per cent of all RAS procedures performed globally. General surgery is the fastest growing segment within robotic surgery.
"Surgical robotics, haptic-enabled augmented reality, sensor technology, GPUs, miniaturisation, cloud computing, simulations, and data analytics, are converging as the next logical step in the refinement of traditional open surgery into that of MIS", explains Dr W Scott Melvin, surgical chief of the NYC-based Montefiore Medical Center.
APAC market
The rising incidence of chronic diseases, increasing geriatric population, growing demand for MIS and miniature robotics, technological advancements in the field of medical surgeries, and substantial funding provided by various governmental organisations to conduct research and development (R&D) activities in next generation surgical robotic systems are expected to fuel the demand for the surgical robotic systems in the near future, according to BIS Research report that forecasts Asia-Pacific surgical robots' market to top $8.49 billion by 2025 (valued at $4.6 billion in 2018). The market is growing at a CAGR of 8 per cent in the forecast period 2018 to 2025.
The rapid development of robotic technology in APAC is driving the market in this region to expand, making it the fastest-growing. Increasing demand for MIS is driving APAC's government to increase funding for the development of medical robots. The Asian Surgical Robotics Market is forecast to grow from $4 billion to $8 billion in the next decade due to aging populations and increased acute and chronic diseases.
"APAC will be a major growth engine for surgical robotics where rapid digitalisation, rising demand and access to healthcare innovation will drive further adoption of health technology and innovations," comments Kin Cheung, Head of Far East of CMR Surgical.
Increased focus on medical robotic development across APAC, mainly driven by China, South Korea, and India, will fuel innovation in the region over the next five years, reports GlobalData. Its latest report, 'Robotics in Healthcare', reveals that APAC has the highest patenting activity for robotics in healthcare globally. Indeed, China leads the world with over 2,800 patent applications between January 2016 and December 2022. Nearly 9,000 applications were filed globally during that period, with around 2,600 coming from the US, over 560 from Japan, and South Korea filing more than 370.
Jemima Walker, Thematic Intelligence Analyst at GlobalData, says "The APAC region is the third largest market for surgical robotics behind North America and Europe. Increasing healthcare expenditure markets such as India and China are driving the demand for robotic surgical procedures, as are other government policies. However, high device prices and lack of healthcare facilities continue to hinder market growth, particularly in developing countries in the region."
"APAC will see a reduction in imported surgical robotics. Rapid urbanisation and population growth across APAC will increase the number of patients requiring surgical intervention. Healthcare providers will increasingly invest in surgical robots to meet patient needs. The cost of current surgical robotic systems is out of reach for most developing economies. However, there are efforts across APAC to supply affordable surgical robots, such as India's SS Innovations, which aims to provide a locally produced alternative to importing expensive surgical robots", adds Jemima Walker.
GlobalData's Patent Analytics reveals that although China leads in patent applications, South Korea accounts for all granted micro-robotic patents for healthcare in the region, with Chonnam National University's affiliated Robot Research Institute being the top assignee.
Elaborating on APAC region's ability to lead the nascent micro-robotics for healthcare, Jemima Walker adds, "Micro-robots could provide breakthrough treatments, including the delivery of targeted drugs for cancer. While US-based companies have a higher profile, APAC is the origin of most micro-robotic patent publications for healthcare. Increasing R&D budgets will ensure that APAC becomes the most innovative region in medical robotics."
Collaborations and mergers
Developing capabilities, forming partnerships, and bringing together business organisations are essential aspects of medical technology and digital health collaboration. Medtech pioneers in APAC are set to coordinate to further enhance the region's surgical robotics capabilities and potential. For instance, Singapore headquartered medtech firm, NDR Medical (NDR) has been expanding its presence in APAC by establishing subsidiaries in Japan along with Malaysia and China.
Speaking about NDR's robotic applications in Japan with the first multi-site trial for Automated Needle Targeting (ANT)-X with two university hospitals, Alan Goh, CEO, NDR Medical explains, "Japan currently has the highest number of computed tomography (CT) machines per million population in the world. It is a mature medical technology market, and healthcare facilities and staff in the country are adept at tapping technological solutions to improve treatment outcomes. Getting early adoption in Japan helps to validate our technology, and affirms our approach for interventional procedures. The new office and our activities in Japan are important steps in our future business growth strategy."
Further, CGBIO Inc. Korea's Regenerative Medicine company, has partnered with NDR Medical Technology, to introduce an ANT-X system that combines AI and medical image processing to assist surgeons during MIS fostering bilateral collaboration as its globalisation strategy expands around medical technology.
Japan is the third-largest market for RAS globally. In October 2022, International University of Health and Welfare collaborated with Tokyo's Mita Hospital to deploy Philips' augmented reality (AR) surgical navigation solution bringing minimally-invasive spine surgery to Japan's aging population for the first time.
Furthermore, Biobot Surgical, a Singapore-based RAS system company, has entered into an agreement with Europe's BEBIG Medical in March 2022 to provide a high dose rate (HDR) brachytherapy solution for prostate cancer. Biobot Surgical developed the iSR'obot Mona Lisa 2.0, a robotic-assisted percutaneous surgical system to guide clinicians on needle positioning during automated image-guided diagnostic and interventional prostate procedures. For an optimal treatment plan, the robotic arm allows angulated needle trajectory to avoid critical anatomical structures.
"The future trend of medical device technology is moving toward digitalisation, automation and artificial intelligence. The joint partnership is a vivid display of these orientations to achieve clinical excellence", states George Chan, Chairman and CEO of BEBIG Medical.
Similarly, in January 2023 Terumo and Siemens Healthineers India announced partnership to strengthen cardiac care in India through collaborative interventions in the areas of physician training and development, access to advanced medical technologies, and improved penetration of Tier 2 and 3 cities. "To pioneer breakthroughs in healthcare it's imperative to create platforms for collaborative growth. Through this industry-academia alliance, we aim to create holistic growth opportunities for specialised healthcare professionals", says Vivek Kanade, Managing Director, Siemens Healthcare.
Taiwan is another pivotal hub for surgical robots owing to the involvement of the Ministry of Science and Technology's Biomedical Development Board and the Central Taiwan Science Parks to create the platforms such as 'Future of Surgery' to allow medical companies showcase 'smart' surgical machines. Ministry data show the nation's medical device sector is generating revenue of over NT$146.3 billion ($4.99 billion), which is nearly 30 per cent of the biomedical industry's total revenue. "The ministry has been working to promote the integration of local brands and the industrial innovation of businesses," said Chen Liang-gee, Minister of Science and Technology, at Bio Asia- Taiwan 2022.
A growing number of well-established healthcare companies are focusing on M&A to expand their surgical robotics portfolios. Ethicon, a subsidiary of Johnson & Johnson, purchased the robotic technology platform developer Auris Health to enhance its lung cancer digital surgical portfolio. Consequently, such industrial initiatives are expected to accelerate the uptake of robots and the growth of the market for surgical supplies.
Overcoming constraints
High spending on medical devices and equipment by hospitals is expected to further boost the market for image-guided and RAS procedures. Yet, lack of skilled surgeons acts as a limiting factor for the market.
Robotic surgery equipment, however, has its own dimensional limitations and complex operating modes. Medical industry is looking for more portable and user-friendly models that are easier to operate in tense surgical environments. For instance, CMR Surgical has leveraged a small, modular, and portable next-generation robotic system, called Versius, with advanced technology that can perform sophisticated keyhole surgery procedures. Integrated into existing busy hospital workflows, it gives surgeons the versatility to operate robotically without disrupting current clinical practices.
While, CUHK Medical Centre and Gleneagles Hospital, in Hong Kong have adopted Versius multidisciplinary robotic programme, Dr Patrick Lau, Deputy executive director of the Hong Kong Trade Development Council says "A novel robotic system such as Versius will positively impact patients fits perfectly into this mould. CMR has chosen Hong Kong as the launchpad for the APAC region as we believe that Hong Kong offers biotechnology companies an ideal springboard from which to expand into rapidly growing markets in mainland China, Asia and around the world."
"The introduction of Versius in Hong Kong follows CMR Surgical's expansion into a number of markets across Europe, Middle East, India and Australia where the system is being used to perform surgical procedures across a range of surgical specialities including gynecology, colorectal surgery, thoracic, general surgery and urology", added Kin Cheung, head of Far East of CMR Surgical.
Similarly, Brain Navi Biotechnology, a surgical robot manufacturer in Taiwan, has developed a Neurosurgical Navigation Robot, NaoTrac which combines Surface Mapping Auto-Registration Technology (SMART) technology, robotics, AI and machine vision to streamline RAS procedures with real-time imaging and minimal invasive outcomes.
In September 2022, Brain Navi expanded its reach throughout the Gulf Cooperation Council (GCC) regions, Jordan, Egypt and other countries in the Middle East and Philippines, Indonesia, Malaysia, Philippines and Singapore. "The device works as a high-precision alternative surgery assistant even for endoscopic brain surgery and cell implantation" adds Dr Tsung-Lang Chiu, a consultant at Hualien Tzu-Chi Medical Center.
Further, ample practices are required for a medical student or even a doctor to become a skillful surgeon operating robotic surgery machines. But Robotic surgery simulators are available only in medical schools or hospitals, as these simulators are bulky and expensive. In addition, availability is also scarce due to unproportionally high demand over supply. Taiwan based Smart Surgery Technology addresses this problem with their VR-equipped interactive application, providing the visual experience and tactile feel from operating on 3D organ models through affordable personal VR gear, making practice available to almost every student and doctor.
"By utilising the Ubitus solution, Smart Surgery Technology can stream high-quality 3D anatomical models to All-In-One VR headsets without needing a high computing power device onsite, further reducing the barrier to practice" says Julie Lee, CEO, Smart Surgery.
Likewise, Singapore's National University Health System (NUHS) has partnered with a local telecom agency to deploy a 5G indoor network at NUH operating theater and wards to enable mixed reality applications, robotics surgeries and internet of things. The high-speed connectivity of 5G would address current limitations in latencies and bandwidth, and open up possibilities for better healthcare experiences, such as augmented surgical navigation using mixed reality devices and robot AI capabilities using cloud and edge computing.
Prohibitive cost concerns

The demand for robotic surgical procedures is driven by increasing healthcare expenditure markets such as India and China, as well as government policies. Nevertheless, high device prices and inadequate healthcare facilities continue to hinder market growth, particularly in developing countries.
A robotic surgery typically costs about $5,000 more than a doctor-led procedure, rendering the physical-intervention of the surgeon a cost-effective and reliable alternative. A da Vinci surgical system costs $2 million, and each system has a handful of disposal parts that need to be replaced after each surgery. Funding from the private sector and venture capitalist is however encouraging the area to bolster aiming at the evolution of economically viable and sustainable approaches. A high device price and a lack of healthcare facilities continue to impede market growth in developing countries.
Furthermore, a highly-trained expert must operate the machinery and healthcare institutions have to adapt to maintenance costs, disposable materials, and longer operative times. However, robotic surgery is increasingly becoming available for a wide range of procedures. Eventually, this might lead to cost-effective procedures.
However, most healthcare providers in the south-east Asian regions like Malaysia, Thailand, Vietnam, Philippines remain uncertain about robotic surgery due to concerns about its high cost, reliability, and liability on technology adoption over on-hand surgeries. In March 2022, Malaysia's Sunway Medical Centre became the first healthcare provider in the country to acquire a robotic surgical system, the latest third-generation da Vinci Si system. Nevertheless, sustainable policies and increasing healthcare expenditures by APAC government's are driving the market for robotic surgical procedures in the region's markets. The transition largely depends on the regulatory environment and reimbursement policies of a country.
The Hong Kong-based Agilis Robotics (Agilis), a leading provider of flexible robotic instruments for endoscopic surgery, released its proprietary robot Agilis Robotics in January 2023 to overcome the challenges associated with conventional endoscopic surgery in order to perform advanced endoscopic minimally-invasive procedures. Recovery time is short for these robotic minimally invasive procedures, and the cost of treatment is only 1/3 to 1/2 of a general surgery. If a general surgery costs between 20,000 and 40,000 yuan, then the endoscopic minimally-invasive procedures can be managed for as little as 20,000 yuan. Overall surgical robotics improve compliance, consistency, and operational excellence which will complement the associated cost.
Further, GlobalData analyst Jemima Walker said that the price of surgical robots is set to decrease as the cost of the underlying technology decreases and as more competitors bring cheaper alternatives to the market.
For instance, Indian startup SS Innovations, is revolutionising the industry, allowing cheaper access to cost-effective medical robots, and reducing India's dependence on imported expensive surgical robotic systems.
In addition, remotely assisted robotic surgeries coupled with 5G technology, in particular, appear to be a credible investment because they can reduce travel costs for both patients and surgeons, making the entire process more sustainable. Specifically, in medical education, robotic surgery can revolutionise remote teaching by training multiple students simultaneously.

With new robotic assistance, procedures can be performed more precisely, with greater flexibility, and with greater control, as well as leaving much smaller and less invasive scars, shorter hospitalisations, reduced pain, faster recovery times, quicker return to normal activities, smaller incisions, reducing infection risk, blood loss, and transfusions compared to traditional surgery.
Promoting medical tourism
Asia Pacific is expanding the medical tourism industry by promoting robot-administered MIS. Surgical robots are expected to help expand the lucrative medical tourism business as the global medical tourism industry is worth upwards of $55 billion annually and is growing by up to 25 per cent each year. The medical tourism industry sees more than 11 million consumers annually, nearly four million of whom travel to Southeast Asia.
Hithaishi C Bhaskar
hithaishi.cb@mmactiv.com